BNB caught up with Magestik Legend to get the full scoop on his tour. We challenged him keep "ML Tour Chronicles" while he was on the road, and here are the fuits of his labor:


ML TOUR BLOG
Day 1
Friday, May 1st
First off thanks to Dj ROBS for the tour guide and support! The show was extremely nice. This was my first time performing in PHX so i was very excited to experience their music scene. One thing I can say is, Phoenix has a growing love for Detroit music. Maybe thanks to a fellow performer Novelty (also from Detroit but now a PHX-native) or maybe thanks to PROOF(R.I.Power) who made a lot of visits to Phoenix for music so Ive been told or maybe thanks to Dj Robs, Dj KAYGEEBEE, and Dj BIG SERG, for playing DILLA/Guilty Simpson/Elzhi/Slum Village/Royce/Phat Kat/Magestik Legend etc and putting other local DJs up on Detroit shit. Either way...I really appreciated the love and I plan on goin back real soon. Novelty KILLED it! The Djs Robs, KAYGEEBEE, and BIG SERG KILLED IT! All in all another WIN in the record books!
Before the show I had the pleasure of taking a quick scenic tour around the Camel Back Mountains and Squaw Peak...BEAUTIFUL! I also had the pleasure of eating some family style Mexican food @ Sylvia's. The Chicken Enchiladas w/ black beans & rice was Magnificent! GO THERE if your ever in Phoenix.
Ps. I gotta make sure I find a chance to go record diggin when I go back! And also I want to make plans to visit Sedona, AZ next time!
Day 2
Saturday May 2nd
Met up w/ kyLA from blacknbling and headed to Fatbeats-LA. Talked to House Shoes and Soup for a bit before finally buying Big Tone "Art of Ink" and House Shoes presents "the King James Version" mixed by Dj Rhettmatic. Time and Money spent well. GO COP THOSE! Grabbed some dinner @ ZenCu Sushi. I had La Rolls/Spicy Tuna Rolls/Vegtable Tempura...SHWEEEEET!!!
Shortly after we headed to the venue, Carbon, for the DETROIT INVASION (w/ House Shoes, Marvwon, Danny Brown and Buff1). This venue was very reminiscent of after hours Detroit spot, in fact it reminded me alot of a small spot back home called the Lush Lounge. The Detroit Invasion night was mostly Classic by D-fault. As Buff opened up the show...we noticed...that the mic chord had a horrible short. The type of short that will make your verses sound like Jamie Fox's hook on "Ah-Ah-Ah-Ah-Ah-Alkahol". A replacement chord was promptly fetched...it just happened to be the wrong replacement chord...Great. So...with all other options exhausted...the Carbon Host, J1 , came up with the retro/old-school/basement style idea of using a pair of headphones as a microphone. CLUTCH SCORE! This element not only made the show more comedic...but also made the show feel more down-to-earth-classic. What is Hip Hop without improvisational skills? Also...House Shoes killed it on the tables as usual! Check the pics...
Day 3
Sunday May 3rd
Met w/ fellow blacknbling compadre Frank Nitti (from Frank and Dank) & Illa J. Had a brainstorming session w/ Frank Nitti to figure how I could contribute to his mixtape. I got to check out Frank's new single with Delicious Vinyl:
Also..illa J played me some brand new crazy roller-skate shit from his new project...as soon as I turned OFF the camcorder..lol
Dinner was @ Palms Thai Restaurant - I had Chicken Pad Thai and also tried Pad See Yoo and Thai Tea for the first time. EXCELLENT!
NOTE:
the 4th and 5th were very relaxing down-time-days spent brainstorming/planning/writing and enjoying the sites/eats/energy of artistic phenomenom called: Little Tokyo.
Day 6
Wednesday May 6th
Went diggin @ Amoeba...That was my first time there...what a great place! lol Then I headed to Frank Nitti`'s spot to record a hook for his mixtape..."Mixed Drink" Aside from slightly-retarded claims of me "Jonny Gillin in the booth" from the peanut factory...the session went greatness. lol Look out for that! Dinner was absolutely magnificent. I ate like a King @ Bossa Nova's in Hollywood. I had the Sea Bass Dinner w/ plaintins, black beans and rice. Again...absolutely MAGNIFICENT.
Day 7
Thursday May 7th
Went by a dope clothing bootique called Archrival in Little Tokyo then had a late lunch/early dinner @ Green Bamboo. The Orange Chicken was the Bomb Digi (c) Erick Sermon. Latter that night I had a session w/ another fellow blacknbling-er Dj Rhettmatic Session (from the World Famous Beat Junkies). FUN TIMES. Rhett laid some dope scratches on one of my upcoming tracks "Gonna Miss Me" prod by Astronote. Everything came out perfect. We caught some midnite munchies at some diner with a dope Chicken Cesar wrap.
Day 8
Friday May 8th
After being blessed with the existence of 30 minutes or so of Hollywood rush hour traffic, I
Had a dope building and brainstorming Session w/ Snowman Jack aka Jordan Rockswell the producer of "IN and Out"
Ps. Walked away with a Cd full of beatz! Chea!!! Let's Go!!!
PPs. Friday Night was capped off by an incredible show by Pete Rock at NiteLife. This was a very star-studded event...there were Too many people there for me to mention including Common...lol
*Xtra-Xtended Bloggage*
Day 9
May 22nd
I did a quick set along w/ Octane @ the "Fusicology/Bagpak presents : The Goodness vs Exchange Bureau vs Raw Fusion"
I met Blacktop and Jocelyne aka JMoneyRED from Fusicology for the first time. Also...Dwele, J Tait, Big Tone FINALE, 5Ela, Rensoul's K-Fresh, Dj Dez, Jeremy Ellis, Yoshi, Jaye, and many more were in the house!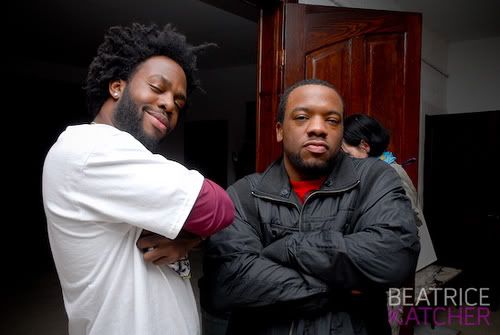 Day 10
May 23rd
the DEMF/Movement festival 09' in Downtown Detrout was a great Climatic point for my Short Road Stint. Thousands of peeps in the crowd/VIP treatment/FREE FOOD/FREE DRINKS/DOPE DJS/Detroit River Backdrop/Ren-Cen Building Frontdrop/Beautiful Weather/FREE FOOD/FREE DRINKS!!!....What more can u ask for??? lol
Oh yea...and I performed too (lol)...as part of the Exchange Bureau Records presentation w/ Octane, Nick Speed, Franky Banks, Black Top, Dj Godfather, John Arnold, Jeremy Ellis, E. Spleece, Josh, Paul, Fusicology and more...The show was OFF THE MEAT RACK!!!!!!! StayConnected to www.MagestikLegend.com @ myspace.com/magestiklegend for info on DEMF FOOTAGE and other exclusive videos to come.....also follow me @ twitter.com/magestiklegend.....Yawl take care!!!...Check the pics below annnnnnnd....PEACE!