WHATS GOOD PEOPLE? ITS YA FAVORITE UNCLE, P.U.D.G.E. AKA ROLF TREEZVANT, PUDGINALD STANLEY, PUDGINALDOE, ETC... HOPE ALL IS WELL WITCHA ...ANYHOOZ,
I'M PART OF A FRESH NEW BAND CALLED THE MILKY WAY, AND... WE HAVE A SHOW 2NIGHT!(YEAH LAST MIN. I KNOW) @ GRAND STAR BALLROOM 943 N. BROADWAY, DWNTN. L.A. NO COVER. FEATURING DJ. CEE BROWN ON THE WHEELS & A SPECIAL PERFORMANCE BY ONE OF MY FAV. MC'S MALKOVICH. COME TAKE A TRIP 2...
THE MILKY WAY...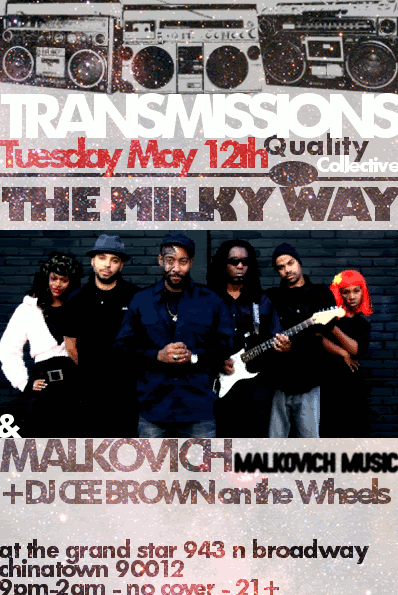 The Milky Way - Meet the Band from Sum Patten on Vimeo.
1OVE