It's been 40 years since DJ Kool Herc first set foot in the Bronx and originated a genre of
music -hip-hop- that would arguably become the biggest phenomenon in pop culture since
rock'n'roll.
But too many variables in the genre today fail to reflect the wisdom of those early
roots. Atop a beat courtesy of hip-hop's consummate produced Dr. Dre.
newcomer Bishop
Lamont takes his roots to task with "Grow Up," the launch from upcoming "The Reformation"
He suggests not only what's wrong with the lifestyle, but how to change it for the better.
Because
he's challenging status quo rather than reinforcing it, Lamont deserves recongnition as one of the
few rappers today whose message needs to be heard.
-SR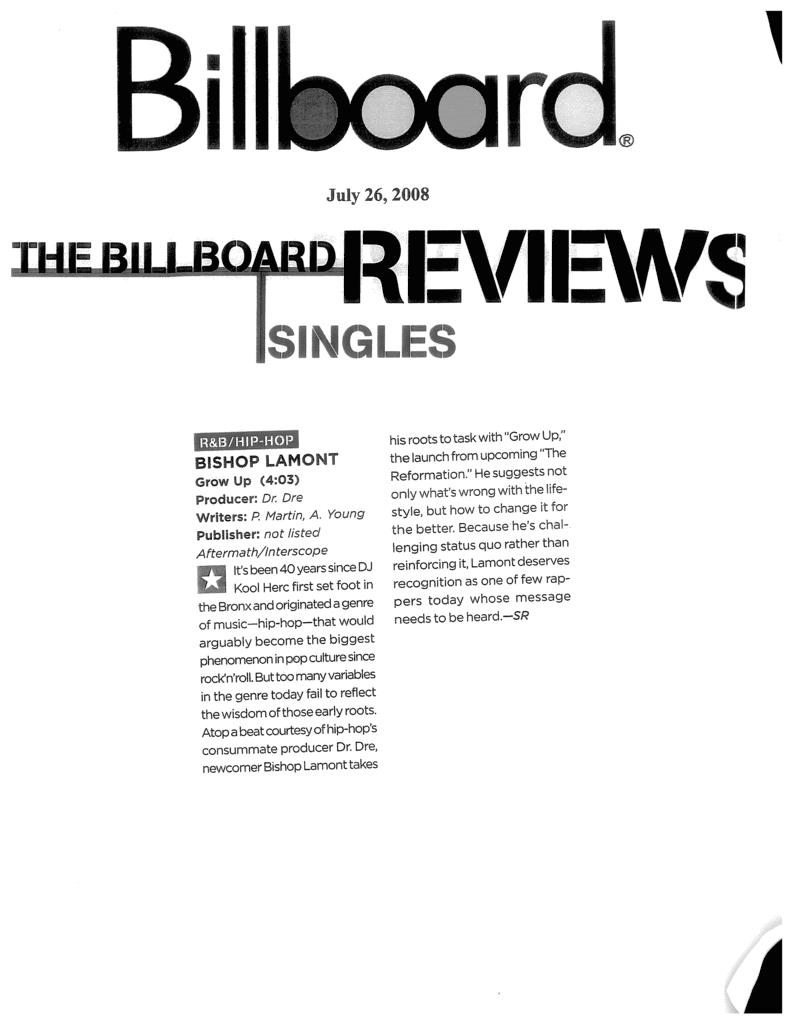 OZONE AWARD NOMINATED **PATIENTLY WAITING** CALIFORNIA
http://www. ozonemag. com/toa_voting/index. php
VOTE BISHOP LAMONT!
ALSO VOTE FOR POWER106 TOP 7 @ 7pm
http://power106. fm/countdown/top8at8. aspx
REACHED #4 7/21 Thanks to Your Votes!
CALL YOUR LOCAL STATION AND REQUEST MY HIT SINGLE
"GROW UP" Produced by Dr.
Dre
FUCK YOUR COUCH REHEARSAL
..
Online Videos by Veoh. com