Well, we started the weekend off last night at tRIPBOOGIE.
Thanks to the peeps that came out out last night, we kept it real OG!!!
TONITE:
FEEL GOOD FUSION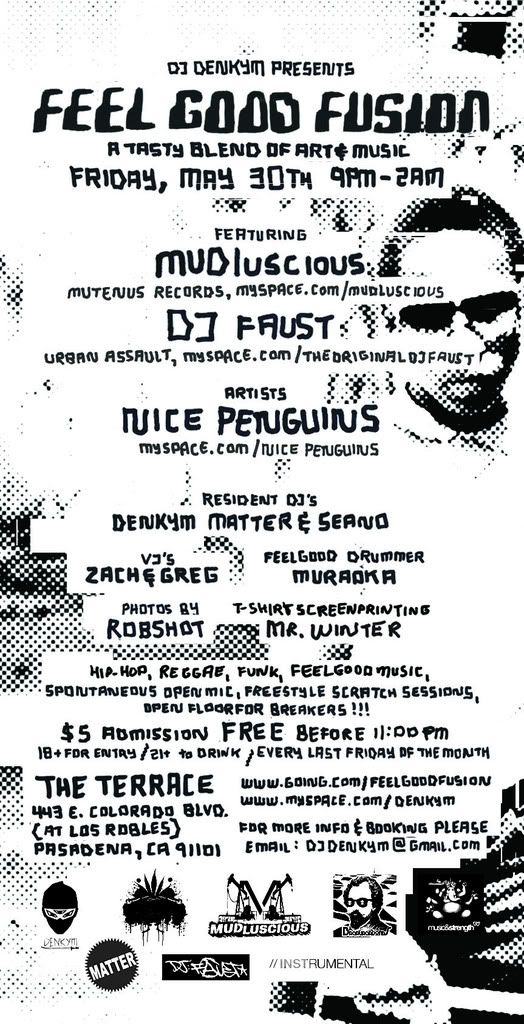 This is always a dope event if your on the 'Dena side. I'll be up there posted with Robshot! BNB Friend of the Week, Sean O, will be spinning as well. Come through for a eye & earfull.
Special Edition of FIRECRACKER:
Bridges invades Friecracker at Grand Star for a collab of soul.
SATURDAY:
The big homie Mr. Cartoon is collabing with Upper Playground clothing for their downtown grand opening.
This is gonna be ill, definitely stop by and check out the dope art that will be on display. Hit up Mr. Cartoon's blog for more info:
http://therealmrcartoon.blogspot.com/
DANCE LESSSONS:
This should be crazy. Hipster scene Dance Right collabs with groovy Sound Lessons for a party.
SUNDAY:
-Need I say more go get DOne OVER!!!
I'll also be guest Djing over at Ladies on Loc over at Carbon.
Ladies, come out after you changed your sangria stained dress. I got a special set for all the lovely ladies ;-)
Hope everyone has a dope weekend, I'm signing off and heading to the beach.