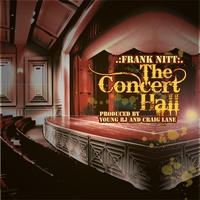 So I finally got a chance to sit down and listen to the Frank Nitt EP.
I gotta say, this is one of the coolest EP's I heard in a minute.
It's like a breath of fresh air.
Frank Nitt opens it up with a track featuring Rapper Big Pooh called "Money"
The production is rich and full, with sound effects and all. Pooh spits a dominant verse while Frank rips the beat to shreds. A reverse beat adds to the tracks hard hitting drums.
Next up is a single out right now, "Automatic". This is ain't no love song. This is a song that BANGS, you know what I mean?? Check out my DJ top 5 to preview this track.
"Clubs in England" is a tribute to the European Vacation.
I've never been to Europe, but this song definitely gives me a feeling of partying in the U.K. Go COP the DVD, its filled with hilarious footage of Frank N Dank.
"Stop Callin'" is about a chick that keeps calling you when you trying to get away. I know some of the fellas can relate to a bugged out chick that won't let you go, at least I can. This track reminds me of Slum Village's "Hood Hoes". The tracks got this hypnotizing beat that knocks.
"N Word" - Nice! Frank Nitt breaks down the origin of the word, while backing up the reasons we use the trerm. Its good to hear that people still use their freedom of speech.
Overall, this EP has got a FULL SOUND. I was listening to it on my laptop speakers and it knocked, so just imagine what it sounds like in the club!
Frank Nitt put together a PRETTY SOLID EP. There was never a change in energy.
Definitely, go to itunes, search Frank Nitt and cop the EP.
Frank Nitt - Concert Hall EP ***Vandle Approved***